<< (http://www.adventuregamestudio.co.uk/forums/index.php?topic=55088) Coloring Ball: Super Hero >>



Your Task:

To Create a Super Hero! how cool is that :cheesy:



(http://i.imgur.com/Itmd8Gh.png)


The Rules:
You cannot rotate, flip, or resize the shape.
You can color the outline according to your design if you wish.
You can only put hair on your character or something to complete your hero but just head.

All Entries must be in by Sunday 10th September, at which time voting will start, and winners will be announced the following week on Sunday 17th September



TROPHY AWARD:


In progress..



ENTRIES SO FAR


DBoyWheeler
Blondbraid
arj0n
Tabata
Cassiebsg
Klatuu

Best of Luck to All the contestants!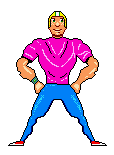 Meet William Joseph "Billy Blaze" Blazkowicz II aka Commander Keen
Defending the Earth and the galaxy from alien threats, with his homemade spaceship, rayguns, and pogo stick since 1990.