AGS Awards
From Adventure Game Studio | Wiki
Revision as of 09:53, 6 February 2006 by
*>SSH
Jump to navigation
Jump to search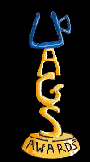 Annual awards given to AGS games for excellence (and one for badness!). Fur all future awards, games should be enetered into the AGS games database to be eligible. Nominees are selected by write-in, the most popular write-ins getting through to the top 5 (or 3 in some categories). These nominees are then voted on. The AGS Awards were started by DGMacphee and later taken on by Pesty.
Current awards
This year's awards (for acheivements in 2005) are currently in the final vote stage. Voting closes at 3pm GMT on Fridayt 17 February 2006. Any forum member can vote, if they are logged in to the forums, although voters are requested to please play all nominees in a category before they vote on it. Nominees are listed at at here, with links to their games pages and the voting page is here. FOREGO voting is also occruing concurrently, at this location.
The 2005 AGS Awards and FOREGOs are being run by SSH, with assistance from AGA and CJ.
Previous winners
Previous winners can be found at:
A list of award winning games can be found on the AGS games page
Links