Ben304
From Adventure Game Studio | Wiki
Jump to navigation
Jump to search
Ben304 is a gamemaker who comes from Australia.

His first AGS production was Trance Pacific, a team effort with Paolo which won September 2007 MAGS competition and Maggies, the award for the best MAGS game of the year.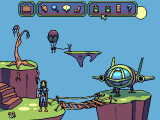 On February 17, 2008 he posted a thread in the Critics Lounge a couple of colourful sprites and backgrounds from a game he was developing, Lode. The drawings caused sensation and wet dreams (and attracted fanboys from all over the place[1]).

Prolific author, he has got 5 AGS games under his belt (Trance Pacific, Man Boy vs. Doctor Sock, Shoot, I Got Abducted!, Annie Android::Automated Affection and Shifter's Box - Outside In). The last two games allowed Ben to reach a broader audience: not only they received positive comments on the AGS Boards, but were reviewed by many well-known indie games blogs (e.g. indiegames.com).

He can be sometimes found in the AGS Stickam Room, with no camera nor microphone.

External links