FSi
Jump to navigation
Jump to search
FSi is a comrade from Soviet Russia, a physicist and a game maker.

Common denominators to his creations are gore, violence, sorrow and pain; in one word things that make some people go: "Ew".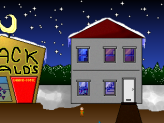 He collaborated in making / made himself a whole plethora of games (28 as to December 2008); most notably FSi's Collection of Most Awful Things that Could Ever Happen on St.Valentine's Day (FSi's CoMATtCEHoSVD), A Walk in da Tomb and Me Go Store II (team effort with Akatosh).

He visits regularly IRC.

External links