Hello,
I'm currently using AGS 3.4.1 on a (German) Windows 10 system.
As far as I can ascertain, all the letters in the fonts below have exactly the same glyph width in one font as in the respective other font at the corresponding position. Thus, they should be suitable to be used as Speech font / Speech Outline font.
I'm importing them both at 20 pt, overwriting font 1 and font 2, respectively.
When using Character.Say(), the outline font text is printed in a slightly different size than the speech font, so the outline comes out misaligned the longer the spoken lines are.
I was expecting the alignment to be exact.
Speech font:
http://www.loquimur-online.de/ags/bd1.ttf
Parameters:
Outline font:
http://www.loquimur-online.de/ags/bd2.ttf
Parameters: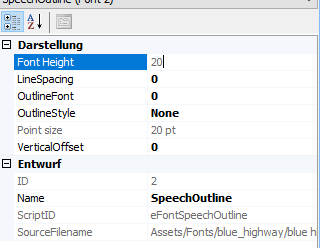 Screenshot of misalignment:
http://www.loquimur-online.de/ags/scrn-misalignment.png