Jimmy Jam
Jump to navigation
Jump to search
Jimmy Jam (full title: Jimmy Jam: Mischievous Days, Menacing Nights) was an AGS adventure game announced in December 2003 by Nixxon (the founder of IbeX studios). It was to be divided into four chapters, and the title of the first one was "Weapons of mass defecation". There were no news of the project since then, so it seems to be abandoned.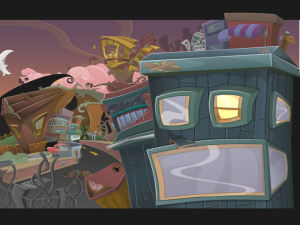 Plot
The creator described the plot as this:
"You play as nine year old Jimmy, the epitome of evil? well not quite but an arrogant little shit for sure. Notorious for wreaking havoc amongst his home town of Firmwood, Jimmy hosts a mass array of elaborate pranks, mischievous demeanors and inhumane violations upon citizens far and abroad. However, the sheer audacity of his immoral activities is up to you. A unique non-linear puzzle structure allows the player to solve countless situations in many dissimilar ways, all the while immersed in an enveloping, highly entertaining story. Will you be wicked or just plain evil? The choice is yours? or is it? Yes, yes it is?"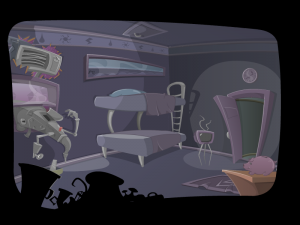 Features
800x600 32bit backgrounds
Non-linear puzzle structure
Fully animated AVI cutscenes
Studio recorded voices
MP3 soundtrack
Trivia
Nixxon, the game's developer, had another project in the works, which was called "Duke Stalker" (working name: "Star Whores: the Next Penetration") and imitated the graphic style of "Day of the Tentacle". Its fate is unknown either.

Links