Sam & Max: The Case Gilbert
From Adventure Game Studio | Wiki
Jump to navigation
Jump to search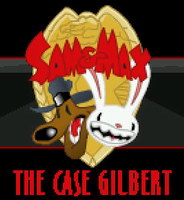 Sam and Max: The Case Gilbert (il caso Gilbert) is an Italian fan project about Sam and Max which started in 2004. The game uses the AGS engine and a 320x240 resolution, combining some ripped graphics from Hit the Road with the new ones. The interface is the same as well, the music will use both old and original themes. For now, only a small demo with two playable rooms is available (in English and Italian), the last news about the project came in 2007 when it was confirmed that the game is still in development and will be cut in two parts. The developers also stated that they were going to create a larger demo.
Plot
The game begins with Sam and Max finishing another investigation, gathering all the suspects in the hall of a mansion (similar to the classic detectives) and declaring that the butler is the murderer. But the butler manages to escape after declaring that he had placed a bomb under the mansion. The detectives run to the DeSoto and drive away, leaving the astonished lords. After the sound of explosion, the game's starting credits begin. As soon as Sam and Max arrive to their office, they get a call from the Comissioner. The message about their new mission will be delivered by "a flying courrier": a bird from the Day of the Tentacle intro. The detectives shoot the bird from the window with Max's bullets (they can be found in the mouse hole - like money in Hit the Road). Then the player can exit the office and see the corridor with the door to Flint Paper's office. But since there are only two rooms in the demo, the detectives can't go outside and get the message, so the demo ends here. According to the developers, the new case is about the abduction of Rob Gilbert. He was kidnapped by no one other than George Ducas, who needs his best programmer. The game will be full of in-jokes and LucasArts parodies, including visits to Rob Gilbert's office and the DucasArts palace ("uncover the secrets contained in it") and even meet Chester, the well-known secretary that made a brief appearance in Monkey Island 2.
Team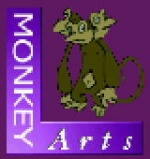 The game is being created by a team known as Monkey Arts: Marco Masini (Mar85) and Danilo Puce (Iena). Joseph DiPerla formerly used to be a team member as well.
Preview
In 2004, the game has been previewed in an online magazine "The Inventory". The preview was generally positive, it revealed new screenshots and plot details.
Quotes
"If we ever become so rich and famous, I wish that you shot me, Sam"
"It will be a pleasure"

"I've seen something of strange, Sam"
"Well, the authors have changed, but this is only a fan-game"

"The last author paid us, Sam"
External links