LuniqueDan
From Adventure Game Studio | Wiki
Jump to navigation
Jump to search
Dan loves them girls.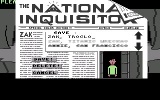 He's working on something Zac McKracken-esque at the moment, but not much else is known about this project.
Now and then he hangs out in the AGS Stickam Room.
Dan is a great guy (non neutral) he also realse a game. But he forgot the AGS database password, so he can't upload a more proper screenshot.